P!nk in Montreal
Updated: October 20, 2017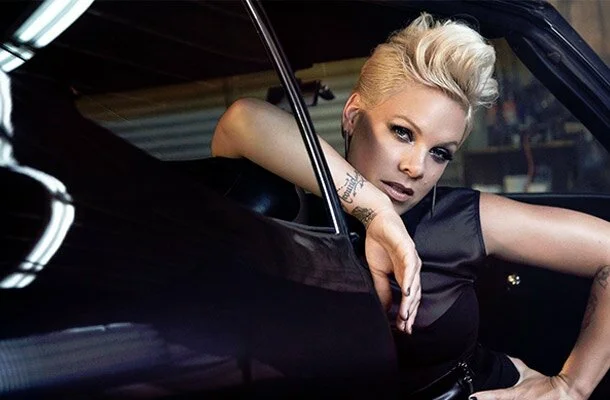 P!nk: Pop Music's Beautiful Trauma
The most surprising thing about edgy pop superstar P!nk isn't her mind-blowing aerial acrobatics, her pristine husky voice, her artful music videos, or even her ability to out-perform and out-crazy her contemporaries – no, perhaps the most surprising thing about P!nk is that she is 38 years old. Or, more specifically, that she is 38 years old, and has somehow managed to remain relevant and influential in a genre that values novelty above all else.
In a genre that constantly demands that everything be "new, new, new", P!nk has achieved a rare feat – longevity. Now, over 20 years into her career, pop royalty's most unexpected member has sold over 16 million albums and 45 million digital tracks – and she's nowhere near retirement, as the release of her latest album demonstrates.
Perhaps it's her voice, capable of channeling Janis Joplin for powerful self-esteem anthems and intimate power ballads. Perhaps it's her live performances, which have been lauded for her incorporation of energetic dance numbers and rousing acrobatics. Or, perhaps the answer is far more simple – perhaps the secret to P!nk's endurance is her unapologetic refusal to compromise.
A rebellious trailblazer, P!nk has built a career by fearlessly pushing boundaries and capitalizing on a genre that is completely her own. Call her too pop-y, and she'll inject a potent fusion of rock and folk into her work. Call her too brazen, and she'll produce a vulnerable ballad that effortlessly tugs at the heartstrings. Call her too shallow, and she'll create an art piece so masterful that it will reap countless awards.
P!nk is an entertainer, to be sure. But she is also an anomaly, an outsider that forced her way in to become one of the biggest artists on the planet.
Now, you can witness this anomaly live in concert as P!nk promotes her latest album Beautiful Trauma, which features the political dance floor banger "What About Us." Canadian shows are planned for Montreal's Bell Centre, Toronto's Air Canada Centre, and Vancouver's Rogers Arena. The opening act will be producer Jack Antonoff (through his stage name Bleachers), who collaborated with P!nk on Beautiful Trauma. The chanteuse is praised for her powerful dynamism and her connection with audiences, so this is one show you won't want to miss! Prepare for unique aerial acrobats and tremendous vocal chops!