Lana Del Rey: Her Best Album Yet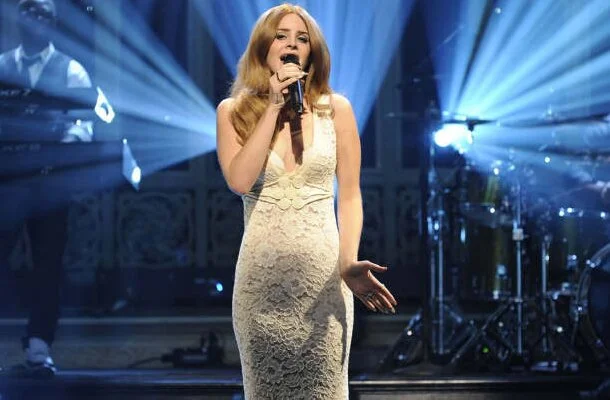 It's all about the album cover. While Lana Del Rey 's previous studio efforts have all featured a melancholic image of the singer displayed on their covers, her recent record finds the Americana chanteuse doing something completely unexpected on its album cover – smiling. Gone is the disinterested frown and the somber tones. Instead, Lust for Life's album cover exhibits Lana Del Rey grinning in an innocent white dress, as flowers lay scattered across her hair.
The album cover – as well as the record's title, a sharp contrast from her 2012 debut Born to Die – embodies the stylistic change that the femme fatale experiences on Lust for Life. While her penchant for creating famously bleak tracks about romantic tragedy is still ever-present (look no further than "White Mustang", which bears all the elements of a classic Del Rey tune), the songstress appears to have significantly expanded her aesthetic and sound, thereby revealing hidden layers to her already-complex persona.
On the dreamy album-opener "Love" and the revelatory "13 Beaches", Lana Del Rey proves that she is so much more than merely a sad crooner. These songs carry an enchanting spark – they are confessional, inspiring, and completely unlike anything Del Rey has released thus far. On the album highlight "Cherry", Del Rey demonstrates that she is still adept at creating smooth and sultry tracks that burst with sexual enticement. "Groupie Love" adds a welcomed dose of psychedelia, while "In My Feelings" finds Lana Del Rey finally breaking her pattern of falling for destructive men.
Around its halfway point, Lust for Life switches gears, as Del Rey turns her gaze towards a topic she has always avoided; politics. On "Coachella-Woodstock In My Mind", Lana Del Rey expresses her worry for her fans amid rising international tension and nuclear warfare. "God Bless America – And All the Beautiful Women In It" is an unexpected feminist anthem, while "When the World Was At War We Kept Dancing" laments whether this is "the end of America."
Stylistically, Del Rey returns to her hip hop roots on Lust for Life, as the girl group sound of the 1960s collides with futuristic electro-pop. Indeed, the past and the future are ever-present on the record. While the retro sensibilities of 2014's rock-driven Ultraviolence and the orchestral symphonies of 2015's Honeymoon are still present, Lust for Life is a successor to the trap beats of 2012's Born to Die in many respects. Notably, Lana Del Rey has enlisted guest vocalists for the very first time in her career. Indeed, Lust for Life includes appearances by A$AP Rocky, Playboi Carti, Stevie Nicks, Sean Lennon (the son of the mighty John Lennon), and frequent collaborator The Weeknd.
Since its release, the stylistic change has resonated among critics and fans alike. The album has been subject to rave reviews and massive commercial success. In fact, the studio effort is Del Rey's second album to reach the top spot in the United States. Lust for Life also debuted atop the UK Albums Chart, as well as entered the top ten in countless other countries.
In short, Lust for Life is a triumph. On the album-closer "Get Free", Del Rey claims that the album is her "modern manifesto." The lyric rings true, as the album has everything – her hopes, her fears, her desires, her limitations but, above all, her endless possibilities.
***
With a world tour in the works, now is the perfect time to see Lana Del Rey live in concert. Witness the new era of the beloved Americana legend as she promotes her best album yet at various Canadian venues!