5SOS: A Boy Band with a Twist
Updated: October 29, 2015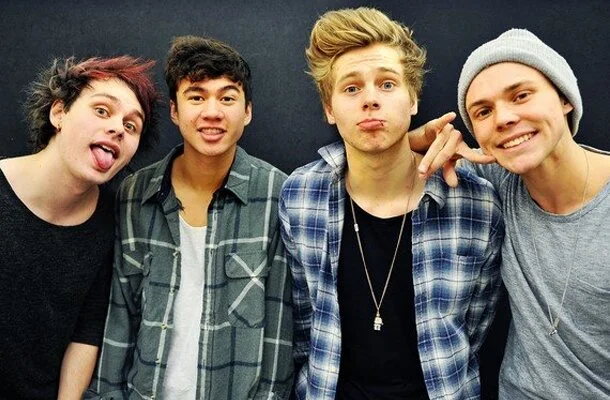 5SOS  Unlike Any Boy Bands
At first glance, Australian band 5 Seconds of Summer seem like your average boy band. Without any additional knowledge about the quartet, you would wonder what exactly separates 5SOS from the legions of boy bands that have enchanted hordes of zealous fans across the world with catchy music and irresistible charm. After all, in a business that has seen the rise (and sometimes fall) of young vocal groups such as New Kids on the Block, the Backstreet Boys, N'Sync, the Jonas Brothers, and One Direction, what exactly could differentiate a band like 5 Seconds of Summer?
In truth, 5SOS are unlike any of the boy bands that have made their way on our musical radar.
The group has strayed away from dance tunes, instead opting for a punk-oriented sound. 5SOS have infused their signature sound with a punk rock flair that is reminiscent of Blink-182. This different direction in their sound has significantly broadened the band's audience, and has set 5SOS apart from their contemporaries. Moreover, the members of the band are renowned for writing their own lyrics and playing their own material. Thusly, 5SOS's wild identity, dynamic sound, and unwavering commitment to art have cemented the quartet's identity as a boy band with an exciting twist.
If you're curious to see how these pop-punk rockers are redefining what it means to be a boy band, then you're in luck! To promote their latest release Sounds Good Feels Good (which features smash hits such as "She's Kinda Hot" and "Hey Everybody!"), 5SOS are embarking on an expansive tour. The Sounds Live Feels Live Tour will see the band perform at venues such as Montreal's Bell Centre and Toronto's Molson Canadian Amphitheatre. Seeing 5 Seconds of Summer live in concert will surely be the experience of a lifetime, as you'll get to sing along to hit tunes like "She Looks So Perfect" and "Don't Stop".
It seems like 5 Seconds of Summer have the potential to follow in the footsteps of legendary bands like Green Day. The band has already achieved immense international fame and critical favor, all while changing the landscape of pop-punk.
And they're just getting started.