Marvel Universe LIVE! in Montreal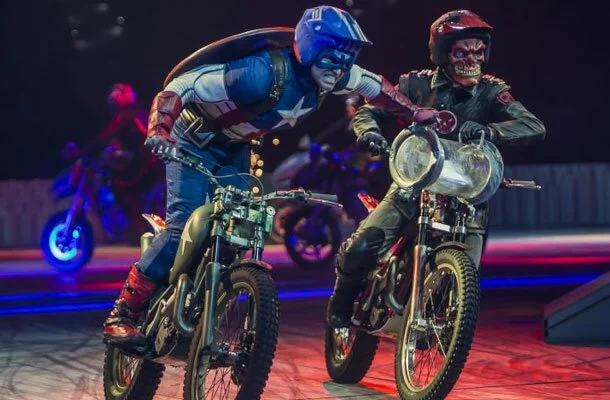 Avengers assemble! It's Marvel Universe LIVE!
Recently, comic books are deep in the throes of a new renaissance. While graphic novels remain a thriving outlet, the phenomenon has found its way into major Hollywood flicks and popular television programs. In this new era, gallant superheroes and nefarious villains leap from the page and acquire their own live adaptations, thereby transforming them into psychologically complex and emotionally vulnerable beings. To grasp this concept, all one has to do is observe the recent rise of the Marvel Cinematic Universe. In just seven years, it has become the highest-grossing film franchise in history, and has produced twelve box office behemoths, including unforgettable titles such as 2012's The Avengers, 2014's Guardians of the Galaxy and, most recently, Ant-Man. In the film industry, Marvel superheroes are undeniably one of the most marketable and commercially successful assets. Meanwhile, on television, Marvel is the mastermind behind popular programs such as ABC's Agents of S.H.I.E.L.D. and Netflix's Daredevil.
Marvel heroes can be found in films, television programs, and various merchandises. Now, they can also be found on stage.
Marvel Universe LIVE! is a live-action arena tour like no other. The stage show unites over 25 mighty Marvel characters in an epic adventure that is spread across two hours of action-packed sequences defined by state-of-the-art special effects, mesmerizing martial arts, mind-blowing aerial stunts, and overwhelming motocross. Marvel Universe LIVE! features a roster of top heroes and villains, such as Captain America, Spider-Man, Hulk, Iron Man, Loki, Green Goblin, and Red Skull. In Marvel Universe LIVE!, timeless champions and fearsome evil-doers are brought to life in a story that is original, fresh and, above all, authentic. The stage show honors the legacy of these characters, and successfully captures the wonder that these superheroes inspire within comic aficionados.
Don't miss the grandiose special effects and spectacular action sequences that everybody will be talking about! This year, see Marvel Universe LIVE! at Montreal's Bell Centre. Renowned Marvel heroes and villains will invade venues such as , Toronto's Air Canada Centre, Ottawa's Canadian Tire Centre and Hamilton's First Ontario Centre for an explosive phenomenon.